Canadian hospital 1st to install imaging app in AI digital command center
Toronto's Humber River Hospital (HRH), which opened in 2015, is the first hospital in the world to install a medical imaging "tile"—or app—into its NASA-style, 4,500 square-foot digital command center in collaboration with GE Healthcare Partners.
Recognized as North America's first fully digital hospital, installing a medical imaging tile into its digital command center in July 2018 made sense for HRH, which serves a region of more than 850,000 people.  
Six other hospitals in the U.S. and one in Europe have already installed or have plans to open command centers next year, a GE spokeswoman told HealthImaging. By 2020, GE hopes digital command centers will become a feature hospitals can't survive without.  
Essentially, HRH's command center is a literal wall continuously processing real-time data from multiple source systems across the hospital. A small team housed in the command center observes the data and can intervene in clinical workflow to ensure that delays will not be missed, resources will not go underutilized and appropriate patient care is executed. 
The underlying technology of the command center combines artificial and human intelligence to analyze real-time data from machines, devices and EMRs. The command center's AI technology performs a myriad of tasks to improve workflow efficiency, including predicting risk and orchestrating complex care and treatment to provide a central space for cultural integration and continuous improvement throughout the hospital.
Specifically, HRH's new imaging tile was developed with machine learning technology, predictive analysis and operates with a 95 percent accuracy rate, HRH staff told HealthImaging. 
The tile displays the length of time a patient has been waiting for an imaging scan, what the priorities of the imaging test are and then prioritizes the scan based on the urgency and location of the exam. The tile primarily relies on data regarding who is in inpatient beds on a certain day, who is on the OR schedule, who is on the imaging schedule and who is in the ED. This data is accompanied by patient characteristics describing who they are so physicians know.  
Additionally, the imaging tile flags every patient based on planned turnaround time (CT approximately 24 hours, MRI 48 hours) from order to test taken. If the patient waits longer than the expected turnaround time, an alert displays on the tile and then tracks time passed—shining a spotlight on the patient and making the delay visible to everyone in the hospital.  
Since the installation of its command center, a report published in September by Frost & Sullivan found that HRH has experienced an eight percent increase in daily visits, a 23 percent decrease in the time it takes to move a patient from the ED to their inpatient bed, a 45 percent reduction in inpatient bed cleaning wait time and reduced acute conservable beds by 52 percent. It's the equivalent of 23 beds without the need for additional infrastructure or staff and has equated to $6.5 million in savings.
In the last year, the tile has added to these statistics by improving inpatient exam turnaround times for CT scans by eight percent, MRIs by 10 percent and ultrasounds by 14 percent.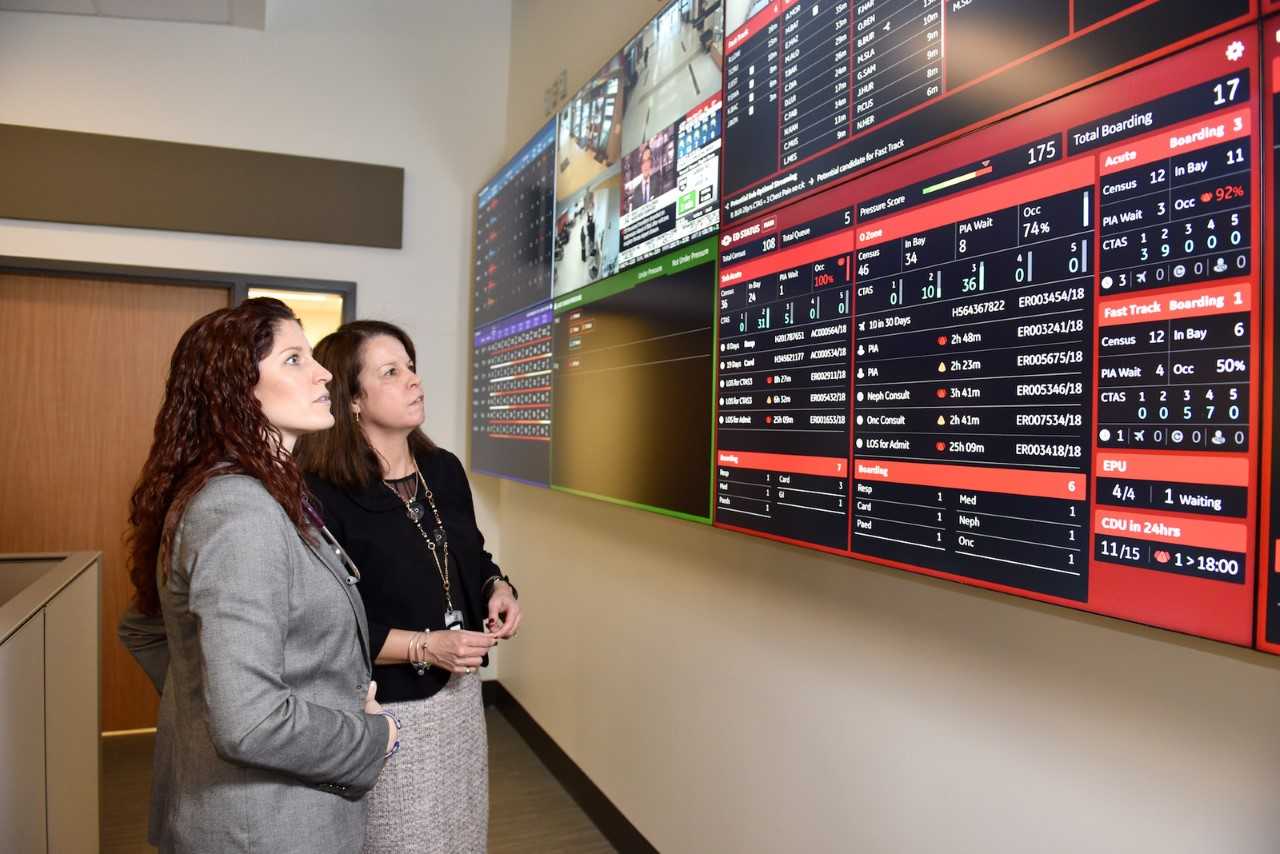 From a physician standpoint, Susan Tory, MD, HRH's command center medical director, said the integration of medical imaging and respected personnel with the command center has significantly streamlined and simplified how HRH physicians approach getting an imaging scan prioritized.
"Before things were centralized and streamlined like they are now, I spent a lot of time calling around to different extensions and numbers," Tory told HealthImaging. "It was less clear on how I would go about expressing that this scan was urgent or should be high priority." 
In the command center, Tory works directly with Ellen Francesconi, MD, an interventional radiologist and the command center's sole "imaging expediter". Together, they streamline staff communication expressing the priority of imaging scans and overall help to improve the organization of and turnaround time for ultrasounds, CT scans, MRIs and interventional radiology procedures.  
Francesconi is responsible for monitoring the tile displaying location, acuity, risk factors, turnaround times and real-time outpatient scheduling data. Her expertise and deep relationships with Humber staff allow her to use the tile to work with the imaging department and the patient's unit-based care team to prepare the patient and make a scan happen when appropriate.   
"This system has made everything much more transparent in that we can see everyone in every area of the hospital and it makes every area much more transparent because we can see what's happening," Francesconi said, who works alongside a clinical expeditor in the command center daily. "When you can see what's happening to certain patients, you can better organize your time, you can better your staff, your resources and reduce time and wait time."  
The medical imaging tile specifically forecasts risk of canceled exams so patients who need certain modalities can be worked in when there is an opening, adding to the great sense of transparency Francesconi experiences in the command center daily. 
"We get better predictability with our inpatients than with our outpatients," said Terry Calabrese, director of medical imaging at HRH. "We do try to fill in those spots with our inpatients if our outpatients don't show up."  
The tile also identifies when patients have a cluster of imaging tests requested so they can make one trip to the hospital instead of many.   
"It kind of gives the patients a sense that we're more organized in that way we approach getting tests done," Tory said. "It allows them to feel like we're actually making a lot of progress in doing things quickly and efficiently and getting them the diagnostics that they need so we can coordinate a care plan better."  
Francesconi also noted that what sets the medical imaging tile apart from other tiles in the command center is its ability to reflect outpatient statistics.  
"Medical imaging does serve a large outpatient volume every day and the patients aren't displaced the same way, but they're reflected on the tile so that if a machine goes down or there's a lot of patients coming in or if there's snow storm and they don't' come in, we can actually follow how they're arriving, if they're arriving or not arriving," Francesconi said.  
Over the past year, Director of the HRH Command Center Jane Casey, MSN, has been very happy to see how relationships have improved between various departments. Medical imaging, as she explained, is "leading the pack" in this culture change.
For example, hospital staff regardless of their department have become more aware of making sure scans are booked the same day and early enough, so the patient can be discharged sooner. 
"We're not working in isolation. We're all working together with the information, the real-time information, right in front of us," Casey said. "We have meetings and we have connections with charge nurses so that they're able to work with our medical imaging flow technologists to really make sure that these tests are done as quickly as possible."   
Overall, the command center and its new medical imaging tile has promoted a sense of interest and collaboration across all departments, Casey explained. The medical imaging tile and all 17 other tiles housed in the command center are available in all HRH clinical areas, further promoting this clinical collaboration. 
"Medical Imaging is a critical function in every hospital that impacts so many aspects of a patient's stay," Zahava Uddin, director for GE Healthcare Partners, said in a prepared statement.  "It therefore fits well in a hospital command center, the very purpose of which is to transcend the barriers that traditionally exist between programs and services throughout the hospital."