Army physician first radiologist to receive award for military leadership, academic achievements
Col. Mohammad Naeem, MD, has been presented with the Surgeon General's highest award for academic excellence. He is the first radiologist to receive this accolade, according to a U.S. Department of Defense news story.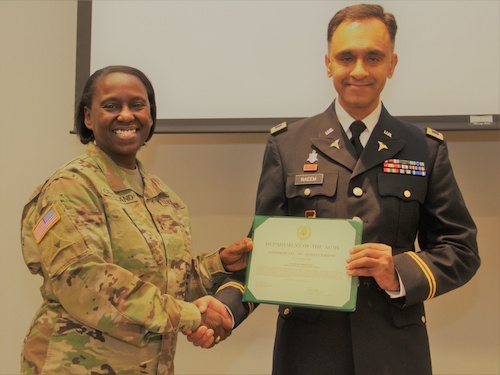 The Maj. Gen. Lewis Aspey Mologne Award is presented each year to one active duty and one reserve medical corps colonel for their outstanding leadership in military medicine and academics. Deputy Surgeon General Maj. Gen. Telita Crosland presented Naeem with the honor during a ceremony held at the Department of Defense Headquarters in Falls Church, Virginia, in November.
Naeem is currently the diagnostic radiologist and officer-in-charge of the Radiology Strategic Operations and Emergency Response Team at Fort Belvoir Community Hospital. He is also an expert in radiological and nuclear disaster preparedness and has special interests in battlefield and counterterrorism imaging.
"To the best of my knowledge, I am the first radiologist to have received this highest military academic honor," Naeem said in a DoD news item. "I sincerely hope that seeing the possibility of a radiologist winning this most prestigious award will motivate and encourage physicians in these support roles and specialties that they, too, can win these honors as long as they are steadfast and zealous in their pursuit."
Read the entire story below.