Amid widespread protests, radiology groups stand in support of 'victims of senseless violence'
The American College of Radiology and Radiological Society of North America are two of the latest medical societies to comment on the recent killing of George Floyd and the ensuing protests taking place across the country.
In the case of RSNA, the group did not mince words tweeting May 30 that "the unjust treatment of people of color must stop."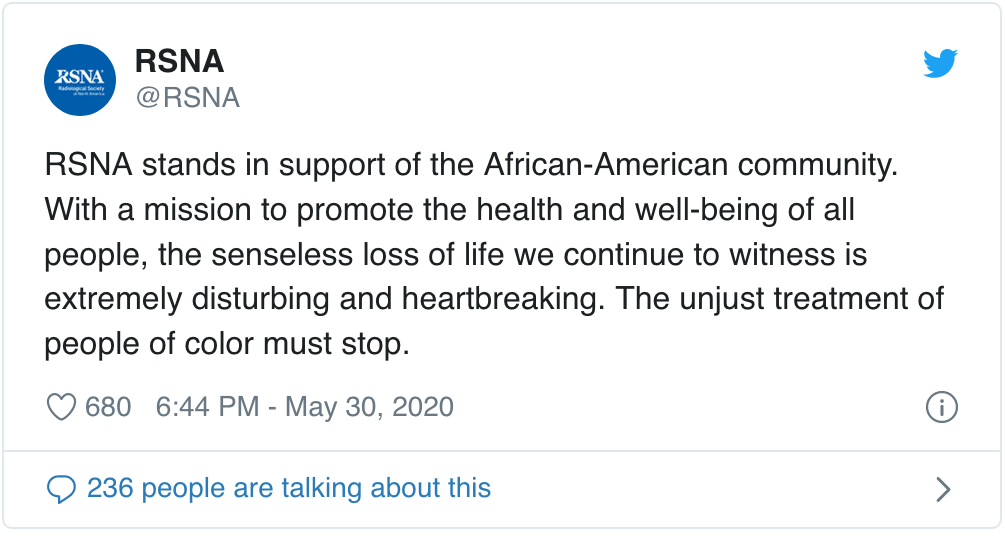 The ACR released its own official statement Monday, noting how the events that have taken place over the recent weeks "illuminate the disparities of our healthcare system and our society in general."
"We support the victims of senseless violence while we work to increase diversity, inclusion and access to care in our field of radiology," the statement read. "While recent events have been tragic, and even shocking, we still have the opportunity to address inequity in healthcare and social justice disparity in America in ways that preserve the safety and dignity of all involved."
Board Chair of the American Medical Association, Jesse M. Ehrenfeld, MD, MPH, and President of the Chicago-based organization Patrice A. Harris, MD, MA, authored a lengthy blog post May 29 labeling violence between law enforcement and the public, specifically among black and brown communities, as a "critical" determinant of health and called for research into its public health consequences.
"Excessive police force is a communal violence that significantly drives unnecessary and costly injury, and premature morbidity and death," the pair wrote. "Our country—our society—demands more."
Three prominent cardiology groups—the Association of Black Cardiologists (ABC), American Heart Association and American College of Cardiology—also pushed out a joint statement recently condemning "incidents of racism and violence," Cardiovascular Business reported.
"The profound grief and stress triggered by these events, as well as the consequences for black lives, contribute significantly to cardiovascular risk," according to the statement. "Each episode has emotional and physiological effects on individuals and all communities. ABC and our partners have been at the forefront of addressing cardiovascular disparities in our communities for decades and it is crucial, now more than ever, that our efforts help to mitigate the unacceptable disparities among our most vulnerable populations."